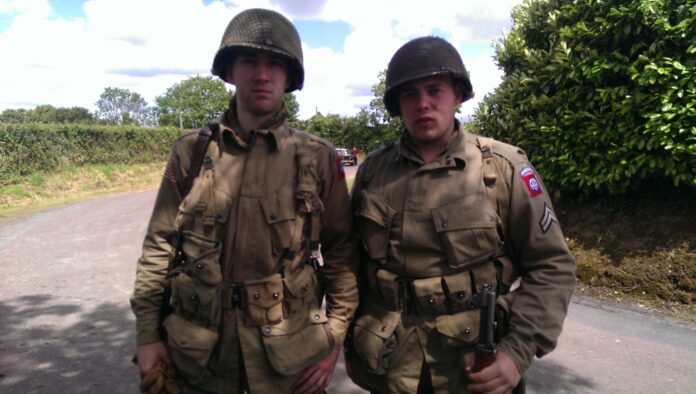 Additional Airborne Sites West of the Merderet River
In addition to the Merderet River crossing sites we list in the "D-Day Visitor's Handbook," there are a number of other memorials scattered a short drive east of the La Fiére crossing that commemorate the desperate fighting by airborne troopers on D-Day and its immediate aftermath.
To reach them, leave St-Mère-Église on D15 and drive west across the Merderet River to its intersection with D126 just before you reach the village of Cauquigny. There you will find a cluster of memorials and informational signs describing the fighting nearby, one of which is a small stele mimicking a glider wing with its D-Day markings. It bears the inscription:
IN HOMAGE OF THE BRAVERY AND SACRIFICES ENDURED BY THE 325TH GLIDER INFANTRY REGIMENT IN NORMANDY
—1944—
LET US REMEMBER
The Cauquigny church, flanked by French and American flags, is a short distance ahead of you.
A plaque on the church front commemorates Lt. Col. Wayne W. Pierce of the 325th, who later authored "Let's Go" (1997)), a history of the regiment.
If you continue a short distance west on D15 (Route du Hammaux Flaux) beyond Cauquigny you will find a small roadside sign remembering Pfc. Charles N. Deglopper who was posthumously awarded the CMH during the fighting  near the La Fière causeway.
Backtrack and then continue on D126 toward Amfreville. At the Les Helpiquets crossroads, you will pass a small, well-maintained park with a memorial to the 507th PIR in the form of a stele carrying a bas-relief of a descending paratrooper. A pair of inscribed steles flank the walkway to the memorial. This crossroads is approximately five kilometers from Ste.-Mère-Église.
In 2014, a memorial was dedicated at a location a kilometer or so east of Amfreville, off the Route de Tiers, known as "Timmes Orchard," where Lt. Col. Charles J. Timmes rallied a hundred men of his scattered 2nd Battalion, holding off successive German attacks on June 6 and after. This memorial, flanked by U.S., French and 82nd AD flags, consists of three rough steles commemorating the 325th GIR, the 508th PIR and Col. Timmes and the 507th PIR.
It's now possible to backtrack along your track to Ste-Mère-Église to continue your tour.