ANGOVILLE-AU-PLAIN, France—An off-the-beaten-path medieval church was the scene of unbelievable heroism on a week in 1944 full of valor.
At the Romanesque church at Angoville-au-Plain, one of the oldest in Normandy, and in few guidebooks, two 101st Airborne Division medics, Kenneth Moore and Robert Wright, saved the lives of many paratroopers in the church during the night of June 6, 1944, and the days that followed.
The Germans heard about these two and brought over their wounded. The medics ordered them to leave their weapons at the church door, which they complied.  This was an isolated story as many accounts, at other sites, have indicated that Germans shot medics and their wounded.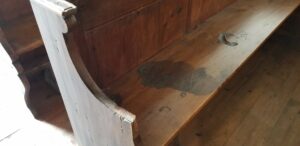 Blood stains are still visible on the pews in the back. Newer stained glass windows commemorate the two medics and the 101st.
Col. Robert Sink, the 506th Parachute Infantry Regiment commander (made famous by actor Dale Dye in the "Band of Brothers" series), made the church his headquarters.
The church is located a few miles south of Sainte Marie-du-Mont and Utah Beach, where the 101st parachuted in the early morning of June 6, 1944.  It is open from 9 a.m. to 6 p.m. daily.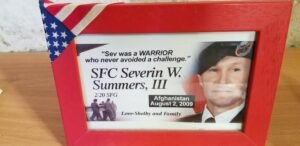 During my visit, someone left a framed photo of a soldier, Sergeant First Class Severin Summers, killed from 2nd Battalion, 20th Special Forces Group (Airborne).  It was the unit I served in during my first tour in Afghanistan.  I am not sure if he had some sort of connection with the church, the 101st, being a paratrooper, but his picture was there reminding me of today's men and women's service…and sacrifice.