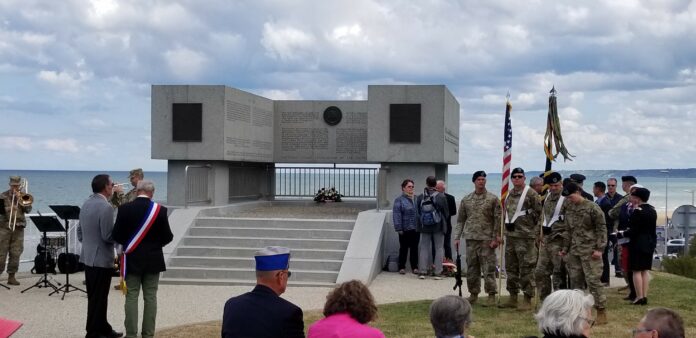 VIERVILLE-SUR-MER, France—The top officer in the National Guard, and one of the oldest survivors of the D-Day landings, commemorated the 75th anniversary of the Normandy landings at the National Guard Memorial on Omaha Beach here.
Gen. Joseph Lengyel, the chief of the National Guard Bureau, said the United States needed its allies in order to win as "no nation can confront combat operations alone."
One of the soldiers honored at the ceremony was 98-year-old D-Day veteran Leonard Jindra, who landed with the 116th Infantry Regiment's first wave at Omaha Beach on June 6, 1944.
Lengyel, accompanied by Army Command Sgt. Maj. Christopher Kepner, senior enlisted advisor, and other Guard leaders, placed a wreath at the based of National Guard Monument.   The monument is on top of an original German bunker on Omaha Beach.
Also in attendance were Maj. Gen. John Epperly, 29th Division commander; former division commander Maj. Gen. Blake Ortner; and retired Brig. Gens. Peter Hinz and Ted Shuey.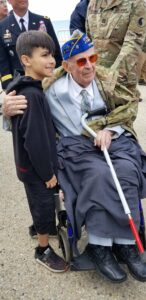 Jindra also was honored at a wreath ceremony at the Normandy American Cemetery, along with the widow of D-Day veteran and fellow 29er Hal Baumgarten, who inspired the opening sequence of the movie, "Saving Private Ryan."
The cemetery, which includes more than 9,300 burials and honors the more than 1,500 missing in action from the campaign, covers 172.5 acres, according to the American Battle Monuments Commission.
Last Bedford Boy Honored
On June 6, President Donald Trump, in a ceremony at the Normandy American Cemetery, honored all World War II veterans of the campaign, including the last known surviving member of the unit known as the "Bedford Boys."
"Private Pickett, you honor us all with your presence," he said, before shaking Russell Pickett's hand.  Pickett, who landed on Omaha Beach with Company A of the 116th Infantry Regiment of the Virsginia National Guard, rose out of his wheelchair to salute Trump before sitting back down.  The 116th Infantry Regiment was in the first assault wave to hit the beaches—with more than 800 soldiers of the 116th killed, wounded or missing during the assault on Omaha Beach.  On June 6, 1944, 19 soldiers from Company A died, many from the town of Bedford, Va.
French President Emmanuel Macron also honored the last remaining World War II Normandy vets, speaking in French, but stopping to break into English, and turn to them, who were behind him in wheelchairs, in a personal tribute.
Other 29th Infantry Division ceremonies include:
A moving ceremony at the division monument in Saint Clair sur l'elle. The town was the site of a fierce battle where division soldiers took the Le Pont de la Pierre Bridge during the invasion.
The 116th Infantry Regiment Foundation placed two new memorial plaques at the base of the statute, "Ever Forward," at the foot of the bloody Vierville draw. The plaques, four times larger than the originals, include new World War II veteran's names and sponsors.
Association members met at the National Guard Memorial at Omaha Beach, and went to the water's edge at low tide along the English Channel, at the exact time in the morning that the division landed on the fiercely contested beach. One retired general remarked, "I can't believe they went 300-400 yards under fire, with little cover, in this low tide."
Association Member Kevin Dennehy is a retired colonel in the Maryland Army National Guard.  He is author of "The D-Day Visitor's Guide."