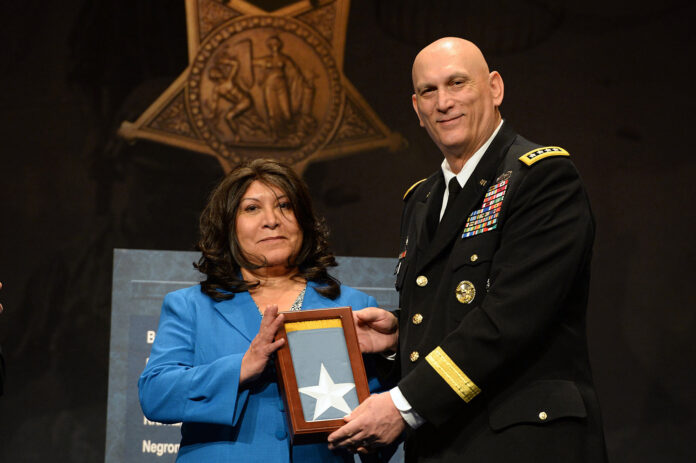 In 1993 Congress authorized a review of the military records of African-Americans to determine if any racially biased decisions had been made in the decisions to award the Congressional Medal of Honor (CMH), the nation's highest honor for combat bravery.  That review resulted in the awarding of seven CMHs to deserving black servicemen who had earlier been awarded Distinguished Service Crosses in 1997.
The success of that review led Congress, in 2002, to authorize a similar review of the combat records of Jewish and Hispanic veterans who may also have been denied the award because of racial bias "to ensure that no prejudice was shown to those deserving of the honor."
That review resulted in the selection of 19 individuals who were judged to have been denied a CMH, because of their race. The review board then expanded the list by adding an additional five individuals who had originally been awarded the DSC in lieu of the CMH.
The awards ceremony for the new recipients took place in the White House on March 18, 2014 during which President Barack Obama presented MOHs posthumously to 21 veterans and to another three who were living.
Pvt. Joe Gandara, the 20 year-old-son of Mexican immigrants, was among the deceased recipients. Joe had enlisted in L.A. in February 1943 and ended up in Company D, 507th Parachute Infantry Regiment, 82nd Airborne Division. (Some on-line references to Gandara mistakenly assign him to the 17th AD, but the 17th didn't jump into the Cotentin on D-Day.)
After the 82nd AD's scattered D-Day jump, Joe most likely found himself with the GIs stranded west of the La Fière crossing of the Merderet River. In the confused fighting near the village of Amfreville on June 9, Gandara's pickup unit, probably the 50 or so troopers under 2nd Battalion commander Lt. Col. Charles J. Timmes, was pinned down by numerous Kraut machine guns, whereupon Joe personally took out three before falling himself.
His Army biography reads in part:
Gandara was bestowed the Medal of Honor to recognize his heroic actions on June 9, 1944, in Amfreville, France. His detachment came under devastating enemy fire from a strong German force, pinning the men to the ground for a period of four hours. Gandara advanced voluntarily and alone toward the enemy position and destroyed three hostile machine-guns before he was fatally wounded.
Ms. Miriam Adams, Joe's niece, accepted his MOH at the White House ceremony in 2014.
Because we compiled our list of Normandy MOH awards before 2014, our recently published "The D-Day Visitor's Handbook" does not include Joe Gandara, an omission that we hope this note corrects until we can publish a revised edition.