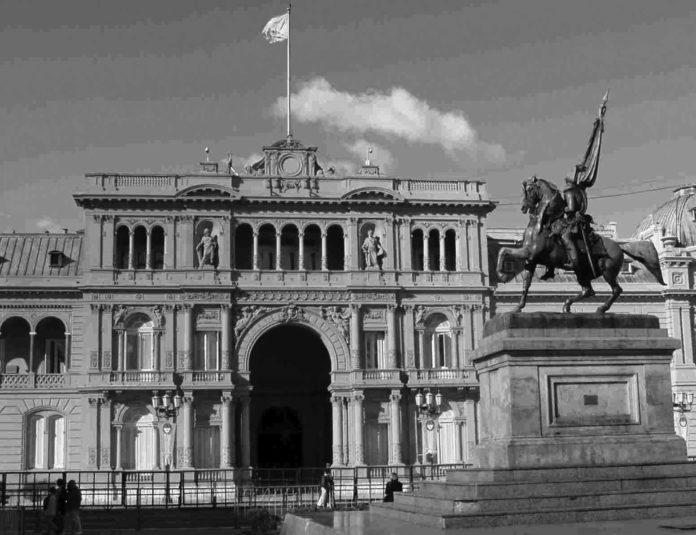 By Jerry Bastarache
When a cold winter chills your soul, get yourself down to Argentina as quick as you can.  Below the equator, it is summer.  And as far as North Americans are concerned, it is always a good time to visit  Buenos Aires, with non-stop flights from major U.S. airports,  no visa requirements, and a favorable exchange rate of about three pesos to the dollar since Argentina devalued its peso in 2002.  For newspaper junkies, an English language daily, The Buenos Aires Herald, keeps anglophones informed.
The city is genuinely beautiful.  Most visitors say that with its broad boulevards and spacious parks and squares, it looks like a European city transported to South America.  But in reality, Buenos Aires has a look all its own, at once familiar yet unique. A port city spreading south and west from the Rio de la Plata (Silver River), you'll see Spanish colonial architecture mingled with ultra-modern office buildings, which somehow blend together pleasantly.  The hotels are posh and comfortable.  The food alone is reason for a visit, with succulent grass-fed beef from the surrounding Pampas (plains) served in even the most modest of eateries.  You'll also find fish from Patagonia and freshly-made pasta on the menu, all at reasonable prices.
The people of Buenos Aires call themselves "Puertenos," harking back to the city's origins as a port.  The Italian influence is so pervasive that one visitor told me  "Puertenos are just Italians who speak Spanish."  But describing the typical Puerteno is like trying to describe the typical American.  Many nationalities have blended here for generations, making Buenos Aires remarkably cosmopolitan and welcoming to strangers. The English had a strong presence here in railroad development, and the Dutch have been coming since 2002 when an Argentine beauty married Dutch Crown Prince William.  As if in celebration, a huge metal tulip mechanically opens each morning and closes in the evening in a downtown park.  While the language is Spanish, it is not the Spanish of Madrid.  It is clipped and rapid-fire, with "Buenos Dias" coming out  "B'n Dia," for example.  Our Puertena guide said the only South Americans that speak true Spanish are Colombians, who enunciate each syllable distinctly.  In any case, it pays to learn a few Spanish phrases since most natives not in contact with tourists or international trade do not speak English.
An overnight United Airlines nonstop flight from Dulles Airport near Washington, DC, took a National Press Club group to Buenos Aires in 11 hours (three of our compatriots from New York took a simultaneous American flight from Kennedy and joined us in Buenos Aires).  With cocktails, dinner and breakfast served en route, a choice of movies available, and brisk walks around the cabin to keep the blood flowing, the trip passes quicker than you might think.  Our base, the Hotel Emperador, is on a wide, tree-lined boulevard, Av. Del Libertador, less than an hour from the airport.  With its central location, marble bathrooms, spacious sleeping areas, an attentive staff and elegant breakfast buffet included, the price of $185 U.S. a night is not unreasonable. Nearly 12 million people live in this capital city of Argentina and its suburbs, so heavy traffic is to be expected, but we encountered no traffic tie-ups during our travels around the area (summer being off-season also helped ease traffic).  Our five-day stay in January included a city tour and a full-day guided tour to a Hacienda (Ranch) two hours south of the city for a folk dance show, barbecue feast, and an outdoor gaucho (cowboy) demonstration of horseback skills.  We also took a day trip to the charming, historic town of Colonia, Uruguay, and went to a steak dinner which included a spectacular tango show.
Reinforced by the hotel's breakfast buffet of bacon, ham & eggs, fruit, cereal, juice and coffee, we toured the city with a native "Puertena" guide, Sandra (aka "Sandrita") in a blessedly air conditioned bus — it felt like the 90s outside (unless you can mentally convert Centigrade to Fahrenheit, you guess at the temperature).  Argentina's 24 provinces contain 38 million people, she said.  Three million live within the Buenos Aires city limits.  Passing residential apartment buildings, she said a typical apartment in the city rents for 9,100 pesos a month ($3,000 U.S.).  With the average salary at only 7,000 pesos a month, it obviously takes more than one income to afford apartment living.  These city dwellers do not give up their beloved dogs.  Many Puertenos of both sexes can be seen on the avenues and in the parks earning a living by walking up to eight or ten dogs at a time.
Military Landmark: "Islas Malvinas" War Memorial 
Just a short walk from our hotel along Avenue Del Libertador lies Las Islas Malvinas War Memorial, a Vietnam-wall type memorial inscribed with the names of the Argentines who died in 1982 fighting Great Britain in what anglos call the Falkland Islands War.  The islands were part of Argentina when it was ruled by Spain, but Britain colonized them after Argentine independence in 1816. On March 19, 1982, the military government of General Leopoldo Galtieri occupied South Georgia, then the Falklands. On May 2, the British submarine HMS Conqueror torpedoed and sank the 12,000-ton cruiser General Belgrano, Argentina's major warship and the only ship ever sunk in combat by a nuclear powered submarine.  In an irony of history, Belgrano was built as the USS Phoenix, survived the 1941 Japanese attack on Pearl Harbor, and was sold to Argentina in 1951 only to be sunk by the British in 1982 (her two escort destroyers were also former U.S. Navy ships).  After 649 Argentine and 258 British deaths, Argentina surrendered on June 14.  An American friend and former co-worker who now lives with his Argentine wife in Buenos Aires told me, "As far as the war is concerned, please realize that it was a trumped up exercise by the then-military dictatorship to drive up waning public support.  There never was a pressing military need for Argentina to invade. The only value to the UK of of the islands is for fishing rights and, more important, for rights to access Antarctica.  Other than that, there's just a bunch of cold, windy rocks in the middle of the South Atlantic with few people and many sheep.  The residents of the islands consider themselves to be UK citizens and have voted to remain in the Commonwealth.  Nonetheless, in many Argentine towns there are memorials to the Argentine dead from the Falklands War."  An eternal flame burns atop the memorial, which is guarded by the Army, Navy, and Air Force on a rotating basis.  When I visited, the guards were Air Force (by comparison, our Vietnam memorial has no honor guard). In another historic irony, the Islas Malvinas War Memorial is directly across the street from what was formerly called Torre de los Ingleses (the English Tower), a clock tower given by the British to Argentina in 1909 as a symbol of friendship between the two countries. In 1999, it was renamed Torre Monumental (Monument Tower). Today, these two symbols of national pride face each other in silent testimony to a long friendship gone sour.
Our city tour took us into the expensive Palermo section, in the wealthy northern part of the city, with its embassies and boulevards lined with Jacaranda trees.  We passed the gemlike Japanese Garden, dating from 1888, and monument to Urquiza, the nation's first constitutional president in 1816.  Rosedale Park, near the U.S. Embassy, has a reputation as a transvestite hangout after dark (which we did not check out). Concerts are frequent in this part of town.  We were told that 160,000 people attended a classical music concert here a few years ago.
"Don't Cry For Me, Argentina"
No visit to Buenos Aires is complete without a visit to that final resting place of the rich and famous, Recoleta Cemetery, and Eva ("Evita") Peron's tomb.  She is still a "controversial character," our guide said, even though she died in 1952 (of uterine cancer).  She is beloved by the "humble people" (the poor), for whom she tried to get government programs, and derided by the wealthy, who had to pay for those programs. Fresh flowers and notes from admirers adorn her tomb every day.  Yet her body was stolen so many times after her husband fell from power in 1955 that in 1976, she was reburied 27 feet underground.  Not far away from the cemetery is the Argentine presidential palace, called Casa Rosada, the Pink House, for its color. Standing in the Plaza de Mayo and looking up at the Casa Rosada balcony, it is easy to imagine Evita mesmerizing her audience.  In an odd coincidence, the day after our visit to Evita's tomb, the newspapers announced that Isabel Peron, widow of Juan Peron and Argentine president herself until ousted in a 1976 military coup, was ordered arrested in Spain in connection with the disappearance of a man during her presidency.
The Plaza de Mayo is also known as the gathering place for "Madres de Plaza de Mayo," the mothers of some 30,000 young people, mostly students, who disappeared during the so-called "Dirty War" of the military dictatorship that came to power in 1976.  The mothers march every Thursday at 3:30 p.m. hoping that someone will recognize the photos of their children and have helpful information.
La Boca ("the mouth") is one of Buenos Aires' 47 neighborhoods and is where the city's founder, Pedro Mendez, settled on the riverbank at the mouth of the Rio de la Plata.  This is "Little Italy" where the Italian immigrants gathered in the 19th and early 20th centuries. Its pedestrian mall, "El Camanito," caters to tourists.  This is where the tango came from, and you can pose with one of the attractive local tango dancers to prove it.  There is also a 40,000-capacity football (soccer) stadium.  But the old harbor there today is, sadly, a ship graveyard, as the modern maritime commerce moved elsewhere.
The new port area of Puerto Madero is filled with art galleries, upscale restaurants, and expensive apartments.  It is also one of the safest areas of the city, with 24-hour security cameras and naval police patrolling.  The famous "Ladies Bridge," an attractive swinging bridge, is located here, near Cabana Las Lilas, reputedly one of the best restaurants on the river.  (Dinner there on another evening of beef tenderloin, plus salad, vegetables, and wine came to 128 pesos each for seven of us, about $40 each.
While a good value, it was obviously oriented to noisy tourists.) Returning from our tour, we made a stop at the Silvia y Mario leather factory near Plaza de Mayo.  Some of the ladies bought leather goods there.  But a man's reversible leather jacket was going for $289, no great bargain in my opinion.
Food and Restaurants
Our guide told us that the Puertenos eat five times a day: a light breakfast, mid-morning snack, lunch, late afternoon snack, and late dinner, at nine or ten p.m. Beef is on every menu, as is pasta and usually fish.  I was told I didn't need reservations for a dinner at Mirasol, a popular restaurant near our hotel, as long as I arrived before nine p.m., which I did.  Good advice, because by 10 it was full.  The tender medium-rare beefsteak was 30 pesos ($10) and a half bottle of wine the same.  For my money, the ubiquitous Malbec, a variety of grape grown in Mendoza, is the best.  Another night's dinner at the Plaza Mayor, next door to Mirasol, was also excellent, this time an ocean bream with Basque sauce.  There are wine bars around town which are good for afternoon snacks such as smoked Patagonia trout on bread for 15 pesos ($5 U.S.).  Oliver's Bar in our hotel also proved to be a good choice for a cold draft beer and a snack.  Even the shopping malls have good food courts.  The one in upscale Bullrich shopping center, named for an Englishman who once operated a stockyard on the site, proved an excellent choice for a group of us looking for a light lunch.  A tasty cheese crepe with salad was 17 pesos, a little over $5 U.S.  Eating out is a part of life here that tourists and residents alike enjoy to the fullest.
Gauchos on the Pampas
A highlight of any trip to Buenos Aires is an excursion out of town to the Pampas, or plains.  We took a scenic two-hour drive south through the flat countryside, with no mountains or hills in sight, only cattle and horses for mile after mile.  Here, you see why beef is so commonplace in the Argentine diet and why the cattle are truly grass-fed.  (At one point, the horizon was broken by the Quilmes brewery, the Argentine national beer which is quite good.)  On the bus, our guide, Sandrita, made "Mate" (pronounced MAH-they) for us, a drink of extremely strong hot tea sipped from a ball-shaped cup through a metal straw as a filter.  It serves as the typical Argentine breakfast, and does, indeed, wake you up with a kick.
We arrived at the little settlement of Chascomos and its hacienda La Alameda, built on a huge, blue lagoon, where we were welcomed with fresh-from-the-oven empanadas and copious glasses of good Argentine wine.  A tour of the ranch house was followed by horseback riding through an ecological preserve for those so inclined, and a wagon tour for the rest of us.  We saw the slabs of beef on the outdoor grills as we returned.  The barbecue luncheon was an unending parade of various cuts of  beef, sausage, and pork on long skewers, washed down with even more wine.  Then came the folk-dancing show, with young gauchos and their "chinas" (pronounced CHEE-nas), wives or girlfriends, twirling in colorful costumes to traditional love songs and folk music.  After the dancing, we adjourned to the meadow outside where gauchos wheeled their horses, first galloping at top speed, spearing a ringlet on a rope stretched between two poles, then stopping short at the fence to present the ringlet to the lady of their choice (that used to mean you were engaged to the gaucho, but none of our ladies stayed behind to find out).  We returned to our hotel at 6 p.m., tired but happy.  At a cost of 125 pesos per person (about $40 U.S.), this is an affordable way to spend a memorable day during your visit.
Uruguayan Interlude
If you look at a map, you will see that the nation of Uruguay appears to be a buffer state between Argentina and Brazil. As we learned on a day trip across the Rio de la Plata to Colonia del Sacramento, Uruguay, that was precisely the intent of the Spanish and Portuguese colonizers.
The Buquebus ferry, an Argentine "roll-on-roll-off" vehicle and passenger carrier, makes the 67-mile  run regularly from Puerto Madero to Colonia.  This comfortable ferry is equipped with  reclining seats, a reasonably-priced cafeteria (Quilmes beer, 7.5 pesos, $2.50 U.S.) and clean restrooms.  We were met at the dock in Colonia by our tour guide, Isabella Zavalla, a Uruguayan of Spanish Basque descent. She told us that many Basques came into Uruguay in past years to work with sheep and cattle in the Pampas, accounting for the prevalence of Basque names and cooking.  This was a walled city, with the oldest structure, a Franciscan Convent, built in 1690.  Here you see a mix of Portuguese and Spanish architecture, with Portuguese roofs slanted, Spanish roofs flat.  Here you also see what was built as the only bullring in Uruguay, but has fallen into disrepair as it was used for auto racing and rock concerts.  The smallest country in South America, it also has such a low crime rate that the people of Colonia don't bother to lock their doors.
Historically, Colonia was a Portuguese settlement looking across the river to Spanish Buenos Aires, an uncomfortable situation for both sides.  After years of rivalry, the powers that be eventually decided that this area would belong to neither Portuguese Brazil or Spanish Argentina, but become an independent nation.  And so it did. And so, during our visit, a modern rivalry over who invented the tango emerged.  Isabella, our guide, explained to us that the iconic tango "La Cumparsita" was composed by a Uruguayan.  Back in Buenos Aires, our Argentine guide Sandrita strongly disagreed, saying he was Argentine.  A Google check showed that the composer of "La Cumparsita" was Gerardo Matos Rodriguez ("Becho"), who was born in Montevideo, Uruguay in 1897, where he died in 1948 after living in Buenos Aires and Paris.  In 1931, he collaborated in the music of the movie shot in France, "Luces de Buenos Aires," starring Carlos Gardel, the famed Argentine tango dancer.  So the Uruguayan-Argentine confusion is understandable since both nations have a claim on him.
Montevideo, Uruguay, though farther from Buenos Aires than Colonia, is also served by the Buquebus ferry and is worth a visit if you have time.  It is home to the scuttled World War II German pocket battleship Graf Spee, parts of which have been recovered from its decades-old watery grave and are on display.  She was bottled up in the river by the Royal Navy and rather than surrender her, the skipper ordered her to be scuttled.  Worried about his crew, her captain asked Berlin whether they should intern themselves in Uruguay.  The response was a terse "No internment."   He committed suicide in his hotel room wrapped in the German Imperial flag, not the swastika.
Recently, one of his surviving elderly crewmen warned salvage workers to be careful of the remaining scuttling charges since they had not all gone off.
Tango Show A Must-See
Whether or not you tango, a dinner and show should be on your list of things to do in Buenos Aires.  Our group included a couple who came specifically for tango lessons, and made the most of it since prices are reasonable and the teachers are the world's best.  There are many tango show spots, and most include dinner.  We chose Esquina Carlos Gardel, in the late dancer's own neighborhood at Pasaje Carlos Gardel 3200, where a steak dinner and all the wine you care to drink is included.  The large hall was jam-packed with mostly older customers.  My only complaint was that the steak was a little tough, but I had been spoiled by "cut-with-a-fork" tenderness at other restaurants. The dance routines took you from the beginnings of tango in the brothels up to the modern day dance.  These numbers were highly choreographed, much like a Broadway musical, and a few in our group just didn't like the production.  But I did, and thought the orchestra, in a balcony over the stage, was the best part of the show.
A City of Museums
Buenos Aires has so many museums you could not possibly see them all in one visit.  I went to the one just around the corner from our hotel, Museo de Arte Hispanoamericana  (Museum of Spanish-American Art), just out of curiosity, and found a small gem.  It is an example of gorgeous Spanish architecture with a courtyard abutting the back of Hotel Emperador, the wall of which is covered with green ivy.  It is filled with art from the 16th to 19th centuries in Peru, Bolivia, and Northeast Argentina, including items from Jesuit missions.  Among the paintings and Catholic religious objects are a stunning  monstrance from "Alto Peru" (Bolivia), made in 1852,  carved altar columns, and a crucifix on a silver sunburst.  There are both Spanish and Portuguese colonial-era bedrooms, and downstairs is a full colonial-era kitchen.  The museum is known as "Palacio Noel," in honor of the late Martin S. Noel, president of the National Academy of Belle Artes, and promoter of Hispanic-American art.  This museum is open daily except for Mondays for an entry fee of one peso for residents, three pesos for non-residents (no one was collecting the day I went in).  But please be sure to call any museum before you visit.  I made the mistake of waiting until our last day in Buenos Aires, a Sunday, before visiting Casa Amarilla (the Navy Museum) in La Boca, and after a long cab ride found it closed for maintenance.  Went to Museo de Armas de la Nacion (the National Museum of Arms) and the Circulo Militar at Plaza San Martin, named for the group of retired military officers who bought the landmark marble structure in 1938, also closed for repairs.  But in this city of museums, you are sure to find a few that appeal to you and are open when you are able to visit.
And anytime you visit Buenos Aires, the friendly Argentines are ready to greet you with great food and wine, sensual music and dance, and spectacular scenery.  My advice:  Go when you can.