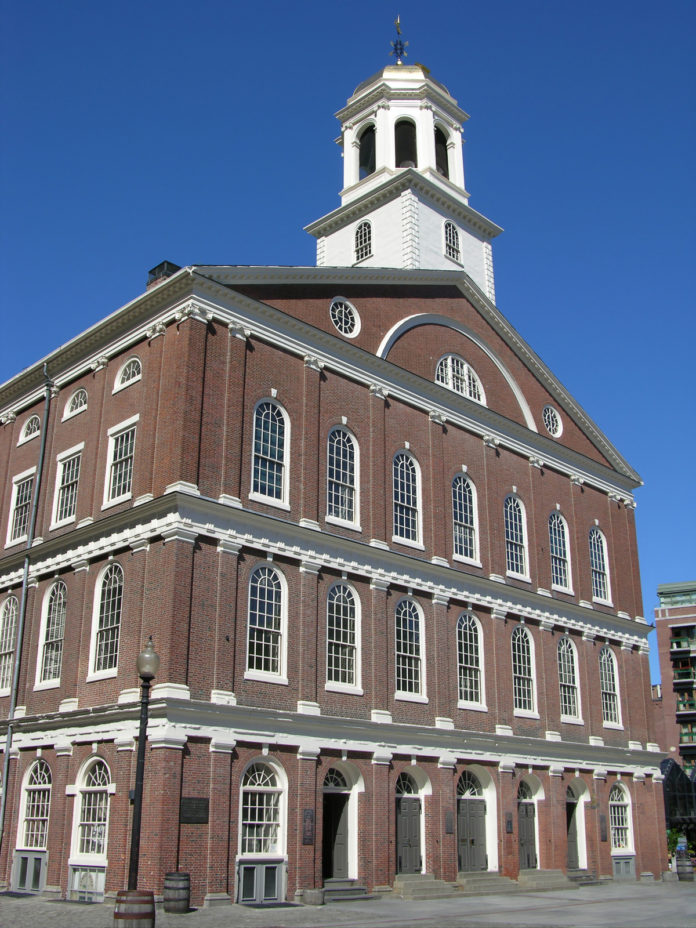 BOSTON—No other city in America can offer a visitor so comprehensive a look back through our nation's history as Boston. From the site of the Boston Massacre, a seminal event in our quest for independence from England, to The Freedom Trail, a collection of historically significant sites viewed on a walking tour, Boston holds some of our nation's most important historical sites. In addition, Boston is home to some of the country's finest hotels, eating establishments and shopping.
Most Americans have heard of the Boston Massacre, but, in case some time has past since your last American History course, Recon wants to refresh your memory of what transpired on that cold night in March of 1770.
A number of contributing factors led up to the musket fire in downtown Boston that snowy evening. Bostonians (and most other colonists) were resentful of the British Parliament's unilateral implementation of taxes and revenue acts designed to fatten the exchequer. One of the first of these came in March of 1765, when Britain enacted the Stamp Act, a duty on certain printed materials in the colonies. Reacting to colonial protests, Parliament repealed the Stamp Act a year later, but, at the same time, it passed the Declaratory Act that stated that it could bind the colonies by its laws "in all cases whatsoever."
Adding insult to injury, in 1767 Parliament solidified colonial resentment by passing the Townshend Act. This Act, among other things, allowed the use of writs, similar to search warrants, to locate items subject to customs duties. As resentment increased and radical colonial leaders, such as Samuel Adams, fanned the flames of resistance, the sloop Liberty, owned by 30-year-old merchant John Hancock, landed in Boston with a cargo of Madeira subject to the new duty. The Commissioners of the Customs attempted to seize Hancock and the Liberty, but were met by a crowd of angry colonists who kidnapped a customs official and unloaded the ship without paying the duty. Concerned with the growing unrest and hostility toward British officials, the Ministry in London ordered four regiments of British regulars to the city in the fall of 1768.
After the soldiers arrived (two regiments were later withdrawn), regular scuffles broke out between them and some of the more adventurous colonists, mainly young men with too much time on their hands and a bit of rum in their bellies. However, the soldiers were often rude and rough with the colonists, and some of the soldiers took off-duty jobs in a local ropewalk, much to the annoyance of the aforementioned young men who were competing for those jobs. By March 5, 1770, Boston had become a hotbed of colonial resentment and British arrogance.
Around 8 p.m. on March 5th, a young British soldier named Hugh White was serving as a sentry at the King's customs house on King St. After getting into an altercation with a colonist, White struck the man with his musket, whereupon he was soon faced by an angry mob. As the mob grew larger, and began pelting White with ice and snowballs, he called for help and the main guard of about 20 men at length responded. After the guard formed itself in a defensive posture, it continued to be assaulted by colonists throwing snowballs and striking at them with staves. As the melee grew out of control, one of the soldiers fired his musket and was joined by the others. When the smoke cleared and the crowd dispersed somewhat, five colonists lie dead or dying. The commander of the guard, Capt. Thomas Preston, and eight soldiers were indicted for murder after Thomas Hutchinson, the colonial governor and British apologist gave in to public pressure and allowed the men to be arrested.
In perhaps one of the most courageous acts of the era, John Adams agreed to represent Preston and the soldiers; he later called the act "one of the most gallant, generous, manly and disinterested actions of my whole life, and one of the best pieces of public service I ever rendered my country." Indeed, in spite of risk to himself and his family, Adams took the case and mounted a vigorous defense. The prosecution of Preston focused on the assertion, made by witnesses to the event, that the Captain gave the order to fire during the altercation.
The massacre was a political windfall for radical colonists who supported defiance of the Crown and they wasted no time capitalizing on the event. At the end of March, Paul Revere published his famous engraving of "The Bloody Massacre," perhaps the most influential piece of propaganda of the colonial era. A Short Narrative of the Horrid Massacre in Boston, an additional piece of propaganda widely circulated around the city, was another attempt to influence potential jurors in the upcoming trials of Preston and his men. However, the efforts of Revere, Sam Adams and company were to no avail. John Adams's defense of the nine soldiers was incredibly successful in part because of a stacked jury. Preston and six soldiers were acquitted; two, Montgomery and Killroy, were convicted of manslaughter. After pleading "benefit of clergy" to reduce their punishment, the court sentenced them to be branded on their thumbs, the traditional penalty for that plea.
Memory of the "Massacre" was kept alive in Boston by carefully staged pageants on the anniversary date until Fourth of July celebrations replaced it.
There is a marker to the five slain men on Boston Common along the Tremont (East side) Street side of the Common. The actual cobblestone marker at the site of the event in front of the Old State House on State St. is unfortunately in the middle of the busy street and difficult to access.
BOSTON ATTRACTIONS
Although you may be chomping at the bit to explore the Freedom Trail and the Granary Burying Ground, there may some in your party who are less enthusiastic about those pursuits. Not to worry, there is something for everyone in Boston. Below you'll find a small sampling of the vast number of attractions you can find in the city.
Copley Place (100 Huntington Ave.). In the heart of Downtown Boston you'll find Copley Place, a collection of over 100 high-end stores such as Gucci, Hugo Boss and New England's only Neiman Marcus. In addition, Legal Sea Foods has a location in the mall. You could spend all day and countless dollars wandering the halls of this testament to good living. Go ahead – you know the little woman can use something from Tiffany.
Newbury Street. Boston's answer to the Champs-Elysées runs along an eight-block stretch of Newbury from the Public Gardens to Mass Ave. Here you'll find high-end galleries, quaint lunch spots and boutiques that cater to all interests. If you are interested in getting a haircut from one of the city's top stylists, any or all of the salons along Newbury can assist you. In addition there are wine shops and art galleries featuring ancient maps and artifacts. Particularly attractive in summer, Newbury is a pleasant diversion for those who may find some of the city's history a bit dry.
Faneuil Hall/Quincy Market. Located near Boston's Government Center, Faneuil Hall and Quincy Market is another spot to shop and eat. Perhaps more interesting than indoor Copley Place, this area, in the heart of Boston and within walking distance of many of the city's premier attractions, is home to a large collection of street entertainers during the summer. Balloon artists, face painters, mimes, etc. dot the walkways around the buildings entertaining kids. If you want to stop for lunch or dinner, one of the marketplace's dozens of restaurants can certainly make you happy. Don't miss the "bull market," a collection of pushcarts selling all kinds of stuff. In the warmer months, Faneuil Hall is busy and touristy, but a good deal of fun. History buffs can try a tour of the historically important hall available through the US Park Service. Even if you don't stay for the discussion by the Rangers, the upstairs of the hall is worth seeing. Tours begin on the half hour from 9-5 daily.
Freedom Trail. Start at Boston Common or for a guided-tour see the USPS at 15 State St. 617-242-5642. Most people start the Freedom Tour, a walk through Boston that brings you by some of the city's most historically important sites such as Paul Revere's house, The Old North Church and Faneuil Hall at Boston Common. Look for bricks embedded in the sidewalk that indicate the start of the Freedom Trail. Start at the Park Street corner of the Common. The U.S. Park Service offers guided tours that begin at 15 State St. The tours run from mid April to November and are limited to thirty people. During peak season three tours run, at 10 am, 11 am and 2 pm. There is no charge; the tour takes 90 minutes and covers a mile and a quarter of the trail. Get there early to ensure yourself a spot. Along the Freedom Trail be sure to stop at the Granary Burying Ground where the graves of Samuel Adams and other Boston notables are located, including the five victims of the Boston Massacre.
JFK Library/Museum (Columbia Point, 617-514-1600). A must see for those interested in our 35th President. Open daily from 9-5 except Thanksgiving, Christmas and New Year's Day. $10.00 admission.
Museum of Fine Arts (465 Huntington Ave., 617-267-9300). Eclectic collections of fine arts from all over the world can be found here. For more information see the Museum's comprehensive website at: www.mfa.org.
In addition to the above there are myriad options for entertainment in Boston. We hope you try some of the places we suggest, but if you do something different or have feed- back on something we suggest, let us know about at: www.militaryhistorytraveler.com.
BOSTON HOTELS
Like most cosmopolitan cities, Boston offers lodging in many different price and quality ranges. We'll begin with some of the city's biggest and best and move along to some that are more moderately priced. All of the rates quoted are for one night during the high season in July. Boston is not one of the country's less expensive cities; rates are somewhat high. One of the nice things about it though is the fact that no matter where you are in the city you can walk to many of the interesting sites. Be advised that hotel rates are significantly lower in the off-season (November-March). Also, weekends in the summer are sometimes less expensive and many of the hotels offer "weekend getaways" with lower rates. Be sure to add approximately 10 percent more to account for various city taxes on rooms.
Boston Marriott Copley Place (110 Huntington Ave., 800-228-9290 or 617-236-5800). Located alongside one of the city's most well known and exclusive shopping areas, (see separate section on Copley) the Marriott is situated downtown and within walking distance of many of the city's premier attractions like the Boston Common (where you can begin your tour of the Freedom Trail) and Newbury Street, an area with numerous restaurants, cafes, and galleries. Not for the faint of wallet, the Marriott's rates for the summer of 2006 start at $499/night for a standard room. Concierge level service will set you back $519 and up per night. Although you may be expecting something spectacular at those rates, you will be paying mostly for location although the rooms are nicely appointed and spacious enough.
Four Seasons Hotel (200 Boylston St., 617-338-4400). The name says it all. The famed Four Seasons chain has its Boston offering located across the street from the Public Gardens, an area that in summer is one of the most attractive in the city. It is within walking distance of the Boston Common, Beacon Hill and Newbury Street. Again, it is one of Boston's priciest options with rates starting at $499. The hotel has two excellent dining options, Aujourd'hui, a French inspired restaurant and The Bristol Room, a more casual option where celebrities in town can often be seen.
Westin Copley Place (10 Huntington Ave., 617-262-9600). Like the Marriott mentioned above, The Westin is also located at Copley Plaza. Although slightly less expensive than Marriott and Four Seasons, at $459 per night, it is still at the higher end of the spectrum.
Radisson Hotel Boston (200 Stuart St., 617-482-1800). In Downtown Boston, the Radisson offers a stay close to the theatre district and within walking distance of many of the city's premier attractions. Rates at this property start at $219/night. Many of the rooms have been recently upgraded and have new "Sleep number" beds. Some rooms have balconies.
Best Western Adams Inn (29 Hancock St., Quincy, MA, 617-328-1500). This is probably the best deal around. The hotel is located in Quincy, a community slightly south of Boston. Downtown is a few minutes away by car, depending on the time of day. Also, the town of Quincy is close to the city of Braintree that is the location of John Adams's home. This hotel is less glamorous than those mentioned above but, with rates that start at $119 per night in July, those on a budget will find their stay pleasant and convenient.
BOSTON RESTAURANTS
Whether your tastes run to French cuisine, sushi, Thai or Italian, Boston has something for every taste. Boston's North End is home to some of the finest Italian food this side of the Atlantic. Most everything you'll find in the North End is superlative. If you try something not mentioned here, let us know about your experience at www.reconcommunications.com.
The Daily Catch (323 Hanover St., 617-523-8567). This restaurant, around since 1973, has become a Boston legend. Although they do not take credit cards and offer only wine and beer, the Catch is packed almost every night, a testament to its quality food. Try any dish with calamari and the lobster Fra Diavalo is unbelievable. Caution: with only 20 seats and no reservations, you'll want to get there early or plan on waiting. But, it's well worth it.
Lo Conte's (114 Salem St., 617-720-3550). If you are looking for authentic Italian, you will find it at Lo Conte's. Located in Boston's predominately Italian North End, this restaurant has all of the standard staples of Italian cooking like veal parmesan and marinara to die for. In addition, they have a nice selection of seafood and a fine wine list. If it seems too crowded for dinner, try lunch. Lo Conte's will not leave you disappointed.
Legal Sea Foods (100 Huntington Ave., Copley Place, 617-266-7775). Although my favorite location of Legal is the one at Copley Place, there are several other locations throughout the city. You can either check online, talk to your concierge or check the phone book for the most convenient location for you. All the locations have one thing in common, however: a consistently good experience. The seafood dishes are varied and undoubtedly fresh and the menu also offers a comprehensive selection of non-seafood dishes. Try the New England clam chowder. Legal boasts that it has been served at every Presidential inauguration since 1981. There's a reason for that: it's great. Legal is kid friendly, so call for a reservation.
Top of the Hub (800 Boylston St., Prudential Center, 617-536-1775). For the ultimate in Boston's tourist experience, check out Top of the Hub, at least for a drink. Located on the 52nd floor of the Prudential Building in Downtown Boston, this place offers unparalleled views of Boston and the surrounding area. Reservations are accepted, but not for window seats. You may want to get there early and have a drink while you wait for one. Although its eclectic menu at times seems a stretch and service can be spotty, we still recommend this place for its exciting ambiance. Get a babysitter and a window seat, you won't forget the experience.
In addition to the above, up and down Newbury Street are various restaurants and pubs. In addition, at Faneuil Hall/Quincy Market you'll find an assortment of more casual dining spots. Any cab driver can get you to these locations or your hotel desk clerk can point you in the right direction. Let us know about your experiences; we value reader feedback!