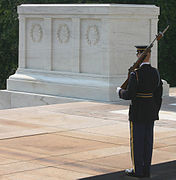 WASHINGTON—Unless a traveler has a month with nothing else to do, it is difficult to see most military history sites in Washington, D.C.  There are scores of statutes, monuments, museums and military cemeteries that are too numerous to mention here.
A good start is to see some of the "biggies."  These include Arlington National Cemetery, the National World War II, Korean War and Vietnam War memorials.  Near Arlington Cemetery and Fort Myer is the Iwo Jima Memorial.
Although there are many activities such as the president laying a wreath on the Tomb of the Unknown Soldier, Recon's advice would be NOT to visit Washington, DC during Memorial Day because of the crowds, the heat and transportation problems.  During a trip over Memorial Day weekend this year, the district's subway, Metro, had several escalators not working at a few stations, forcing elderly tourists to walk up dozens of steps.  The system also did not have many Metro rail cars in service, making a normal 20-minute commute take an hour.
To get to the Vietnam and other memorials on the National Mall, go to these Metro stops:  Smithsonian, L'Enfant Plaza, Federal Triangle, Archives-Navy Memorial.
Arlington National Cemetery
One of America's most hallowed grounds, Arlington National Cemetery was created in1864 after the federal government confiscated land from Mary Anne Randolph Custus Lee, Gen. Robert E. Lee's wife.  Presidents, generals, admirals, movie stars, Medal of Honor winners and even Supreme Court justices are buried here.
The solemn changing of the guard at the Tomb of the Unknown Soldier takes place every half hour from April 1 to Sept. 20.  During other times of the year, the changing of the guard is hourly.  During this ceremony, U.S. 3rd Infantry Regiment tomb guards are inspected and are replaced with new soldiers.
Some smaller sites worth seeing include:
Fort Ward
One of several forts that protected Washington in the Civil War, Fort Ward includes museum exhibits, living history programs, cannon firing, equipment displays and camp life.  On July 8, there will be soldier-led tours of the fort that are free.  Fort Ward Museum & Historic Site, 4301 W. Braddock Road, Alexandria, Va.  22304, (703) 838-4848, www.fortward.org.
Decatur House Home to War Hero
Commodore Stephen Decatur, Jr. and his wife Susan Wheeler moved into a home built by Benjamin Henry Latrobe in 1818.  Already a celebrity from his conquests in the Barbary Wars and the War of 1812, Stephen Decatur became one of Washington's most celebrated figures.  Unfortunately, the couple only occupied the house, which is located near the White House, for 14 months as Decatur was mortally wounded in a duel against Commodore James Barron on March 22, 1820.  Decatur House, http://decaturhouse.org.
Andrews Air Show One of Nation's Largest
Officially called the Joint Service Open House at Andrews Air Force Base, Md., the air show (each year in May) is one of the best and largest in the nation.  Some of the displays include vintage World War II aircraft such as the B-17 Memphis Belle, P-47 Thunderbird, Grumman TBM Avenger, Curtiss P-40E Flying Tiger, Japanese Zero and many others.  Modern airplanes include the V-22 Osprey, Stealth Bomber and others.
Pershing Statute in Freedom Square
Off of Pennsylvania Ave. is a small park with a bronze statue of Gen. John Pershing.  The square also has informative maps and describes campaigns of World War I.
Navy Memorial's Lone Sailor
Located at 702 Pennsylvania Ave., NW, the Lone Sailor statute depicts a U.S. Navy bluejacket sailor.  The bronze sculpture was cast with metal or artifacts from some of the most historic warships—the USS Constitution and USS Maine and others.  The nearby Navy Memorial has a museum, gift shop and movie presentation.  Metro stop:  Archives-Navy Memorial.
Navy Museum at Washington Navy Yard
The Navy Museum is located in Building 76 on the Washington Navy Yard.  The Navy Museum exhibits an extraordinary collection of ship models, uniforms, medals, ordnance, photographs and fine art.  The museum collection also includes an F4U Corsair, nicknamed "Big Hog"; a twin mount 5-inch .38 caliber anti-aircraft gun; the foremast Fighting Top from frigate Constitution; and the bathyscaphe Trieste that descended nearly seven miles to the deepest location in the Pacific Ocean.
Tours are available.  Each fall, the museum hosts the Seafaring Celebration.  Hours are 9 a.m. to 4 p.m. Monday through Friday.  Closed on weekends and federal holidays.  Washington Navy Yard, (202) 433-4882.
Old Guard Museum
On Fort Myer, the Old Guard Museum tells the story of the U.S. 3rd Infantry Regiment, the Old Guard, from its Revolutionary War beginnings to today.   The museum, in Building 249, is open 9 a.m. to 4 p.m. Monday through Saturday and 1 p.m. to 4 p.m. on Sundays.  One of the prized possessions is the Chapultepec baton that was made out of a flag pole from the battle in the Mexican War.
Getting to DC
Washington, DC is served by three major airports:  Dulles International Airport is located 25 miles from Washington in suburban Virginia; Reagan National, also in Virginia, is adjacent to town; and Baltimore Washington Airport, which is closer to Baltimore.
When doing your internet searches of the area, always include BWI, because you may find cheaper fares.  These fares can be offset by high cab rates, but public transportation is available from all three airports.  In fact, if you are willing to take a bus/Metro rail and travel light, you can get to Washington, DC from BWI for less than $7.
Lodging
Renaissance Mayflower Hotel (1127 Connecticut Ave., NW).  Whether or not J. Edgar Hoover cross-dressed in this hotel is a matter of opinion.  Either way, it is a great place to see world politicians and celebrities.
W Hotel (15th & Pennsylvania Ave., NW) Several movies have been filmed there—including Godfather II.  Its 11th Floor outdoor verandah has some of the best views in the city, including the nearby White House.
Wardman Park Marriott Hotel (2660 Woodley Road, NW, 202-328-2000).  A business-class hotel in a good area of town.  If you have been to Washington for business or a convention, chances are that your meeting was held there.  It is a block away from the Woodley Park Metro and a half mile from dining and hot spots in the Adams-Morgan area.
Restaurants and Bars
Old Ebbitt Grill (675 15th St., NW, 202-342-4800).  Presidents Grant, Cleveland, Harding and Theodore Roosevelt all have frequented this bar/restaurant.  Scores of beltway insiders, celebrities and journalists hang out here.