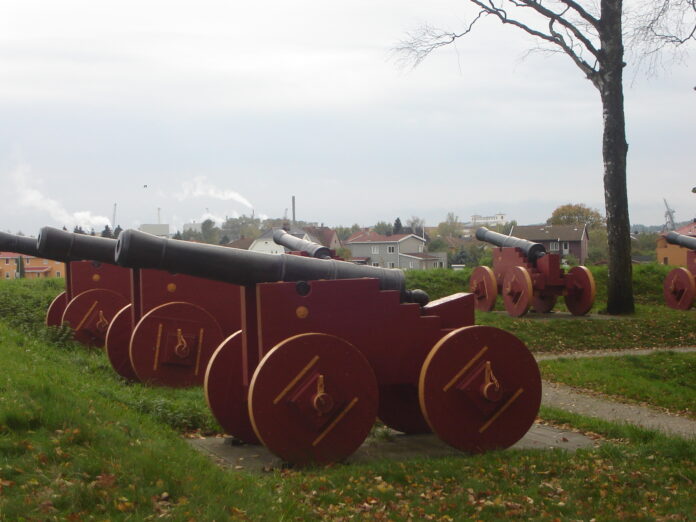 Visitors to Scandinavia will marvel at the region's beauty, historic sites–and how expensive it is. Tourists who visit England or other European countries may beg to differ. However, Oslo, Norway, has been dubbed the most expensive city in the world, overtaking Tokyo for that dubious honor.
MHT took an SAS flight from Washington Dulles to Copenhagen, which has connecting flights to all Scandinavian cities. SAS is a great international carrier that uses modern Airbus aircraft. In coach, fliers are treated to two free alcoholic beverages of their choice (this was unlimited a little while ago). United Airlines, on the other hand, asks travelers to fork over another big bucks for alcoholic beverages. The in-flight food is decent…and a meal of traditional Swedish meatballs greets fliers on the return flight for lunch. An after-dinner cognac is a nice touch.
Copenhagen, Denmark.
Copenhagen has many sights—perhaps more than any other Scandinavian capitol. However, be careful to assess the weather when trip planning. The rain can be cold and nasty, depending on what time of year.
In addition, driving in Copenhagen, with its residents bicycling and motor biking it, can be a hassle. Ditch the rental car and walk…everything is a 10-15 walk from the city center. This goes for all of Scandinavia's capitols because each has a great public transportation system.
MHT stayed at the First Hotel Vesterbro (www.firsthotels.com). This is just a five-minute walk from Tivoli. This is a four-star hotel–found for a little more than $100 in the off-season through an online travel site. The room was spacious, with hardwood floors. The hotel also had a good continental breakfast.
For Copenhagen's best-known attraction, go to Tivoli (www.tivoli.dk). It attracts millions of visitors each year. It features an amusement park, an open-air stage, theatre, live music and nearly 40 restaurants. One of the Tivoli restaurants MHT went to was posh, but ended up being very reasonable in price (if anything in Scandinavia can be called that).
A good way to see the city is a walk from a hotel in the Vesterbro area to the pedestrian mall, called Stroget. Scores of posh shops and restaurants line the cobblestone street.
Catch a changing of the guard at Amalienborg, or Amelia's Castle, the royal residence since 1784. The square in front of the castle includes an equestrian statue of King Federik V.
A great place to grab a beer or lunch is Nyhavn, or New Harbor. It is a 300-year-old harbor-front neighborhood full of restaurants, antique stores and other sites. Hans Christian Andersen lived there.
After Nyhavn, visit the Resistance Museum, or Frihedsmuseet (www.frihedsmuseet.dk). The museum commemorates the Danish resistance movement, which not only saved thousands of Jews, but put up a heroic fight against the Nazis who occupied Denmark.
The famous Little Mermaid statue is a short walk from the Resistance Museum and a 17th Century fort with moats that protected the harbor (built after the Swedish Army invaded in 1659 and used as German Army headquarters in World War II). If lost, you can follow the many tourists who bypass the military history sites en route to the iconic statue.
Oslo, Norway
Be prepared for great scenery and great expenses when you visit Oslo, which is the most expensive city in the world. Try to get out to the fiord and Bergen, rather than just staying in Oslo, which is the oldest of the Scandinavian capitols.
MHT drove along the scenic Swedish coast from Goteborg to Oslo. We stopped en route at Fredrikstad, Norway's oldest fortified city, which is on Oslo fiord. The walled town, complete with a moat and fortifications, houses many shops and a museum.
Twenty one miles south of Oslo is Drobak, a scenic fiord town where Norwegian forces sunk the German cruiser Blucher during World War II. The town features a "Christmas House" that sells gifts such as wooden dolls and clothing.
MHT stayed out of Oslo, in the scenic Holmenkollen area. Holmenkollen is a wealthy, mountainous area of Oslo. The main attraction, besides nearby skiing, is the
Holmenkollen ski jump and museum. Built in 1892, it was reconstructed for the 1952 Olympics. There is a cool ski simulator outside and the sights on top of the ski jump can't be beat of Oslo's fiord and surrounding mountains (and you are wondering how ski jumpers can fly off of the equivalent of a six-story building and land perfectly).
Our hotel, the Soria Moria, is a 156-room, business-class conference hotel high on a mountaintop. It is near the subway line that gets people to downtown Oslo in less than 30 minutes. The Soria Moria's rooms are small and feel like a cabin.
The hotel's buffet breakfast is extensive and great-tasting. The hotel features free parking. Again, bring your own beer or alcoholic beverages as a draft will set you back about $11 a glass, wine a little higher. See our separate box about eating in Scandinavia.
You may want to go online to buy a Norwegian sweater to price check before splurging several hundred dollars for one in Oslo. Just like anywhere else in Europe, you can find it online. Something like a model of the Holmenkollen ski jump is unique and may be a good purchase.
Sights in Oslo
You can buy an Oslo pass at your hotel for about $50, which gains entry in virtually all of Oslo's museums and sights. Public transportation is good and gets you quickly to your location.
Akershus Fortress. Built in 1299, this medieval castle withstood war and sieges for centuries. A statue of Franklin Delano Roosevelt is in front of the castle walls. There also is a city and army museum located on the grounds of the fortress, which is still used by the Norwegian military.
Norway's Resistance Museum (www.mil.no/felles/nhm/start/eng), also located on the fortress' grounds, details the brutal occupation of Norway by the Nazis in World War II. There are uniforms, guns, recordings that trace Germany's invasion in 1940 to Norway's liberation in May 1945. Hitler was paranoid about Norway, thinking the allies were going to start the second front there—that's why he garrisoned thousands of German troops in the country. Norwegian resistance forces were executed on the grounds of Akershus Fortress. After the war, it was payback time for Viduk Quisling and other Norwegian traitors, who also were executed in the fortress grounds.
With little time and lots of sights to see, go to the National Gallery, instead of the Munch Museum. Outside of the usual Monets, Renoirs, Van Goghs and Gaugins, there is a whole room full of Norwegian painter Edward Munch, including The Scream. The famous painting was stolen in 2004 and recovered last year.
The Nobel Peace Center. The center has permanent exhibits about the lives of the winners of the Nobel Peace Prize, which is awarded at Oslo City Hall each year (www.nobelpeacecenter.org). A multi-media room is filled with biographies of the winners. One of the peculiar displays was about Theodore Roosevelt, who helped end the Russo-Japanese War. Roosevelt's display simply calls him an "American Imperialist" with no other biographical information (others are given long entries). This small museum has a gift shop with overpriced items. Like most museums in Oslo, it is very expensive, so get a city pass.
Bygdoy. Several great museums are located in the Bygdoy area of Oslo. In summer months, take a scenic ferry, located in front of City Hall, to this peninsula. Cab rides are expensive, but worth it if you have little time to wait for the city bus.
Bygdoy's Viking Ship Museum features three Viking ships found in burial sites in the Oslo fiords. They date to 800 AD and are in great shape. The Kon-Tiki Museum features boats and artifacts collected by Thor Heyerdahl, the famous explorer. It contains both the Kon-Tiki and Ra II boats that made trans-oceanic voyages to test Heyerdahl's theories. A good gift shop is located in the museum.
Stockholm, Sweden
MHT flew into Stockholm via SAS to Arlanda Airport. A speedy (100mph) train wisked us to downtown Stockholm. Our hotel, the Sheraton Hotel, was in a great area downtown and near the main train station.
The rooms were large and we had a magnificent view of the river and Gamla Stan, the medieval part of the city, which is on a nearby island. The Sheraton features a great hotel bar and an excellent, but pricey, buffet breakfast.
Another good hotel choice is Birger Jarl, which doubles as a modern-art gallery.
See our sidebar on eating in Scandinavia. Stockholm's eating experience was better than the other two capitols we visited in Scandinavia.
In terms of shopping, Gamla Stan has rows of shops to buy antique prints, crystal and other gifts. The Hamngatan street area has all of the major department stores…but remember, you can probably get it for cheaper online.
Sights in Stockholm
Just like Oslo, we recommend you get a Stockholm Card, which allows you entry into most sights in the city. We also recommend you take a boat ride, which can be caught near the Grand Hotel's waterfront.
We also recommend that you take a walking tour of the Stadhuset, or City Hall. This is where the Nobel Prize is awarded and is the venue for the annual dinner, which is a big deal in Stockholm every year.
Check out the National Museum with its 12,500 works of art. It has an impressive collection of Rembrandts.
Riddarholm Church, dating from 1270, has war hero King Gustavus Adolphus interred within.
Head to the royal palace, Kungliga Slottet, where you can see the changing of the guard at noon every day. Nearby are medieval churches and other sights on Gamla Stan.
The Vasa Museum contains the warship Vasa (www.vasmuseet.se), which sank 10 minutes into its maiden voyage in 1628. It was pulled out of the shallow Stockholm harbor in 1961 and was preserved by the Baltic's mud.
Skansen is an open-air museum with hundreds of historic buildings taken from all over Sweden. It features festivals, a zoo with local wild animals, shopping and restaurants.
The Army Museum is located near the shopping district. In an old Swedish Army artillery headquarters, the museum traces pre-Viking military history through today. There are three floors of horses, uniforms and battles from Sweden's day as a world power, particularly focusing on the 30 Years War, where it came out victorious in Germany.
It is easy to note that while there are great exhibits on World War I and World War II, Sweden remained neutral in two of history's most terrible conflicts. At the changing of the guard near the royal palace, you can see active duty soldiers who now where NATO medals touting service in the Balkans.