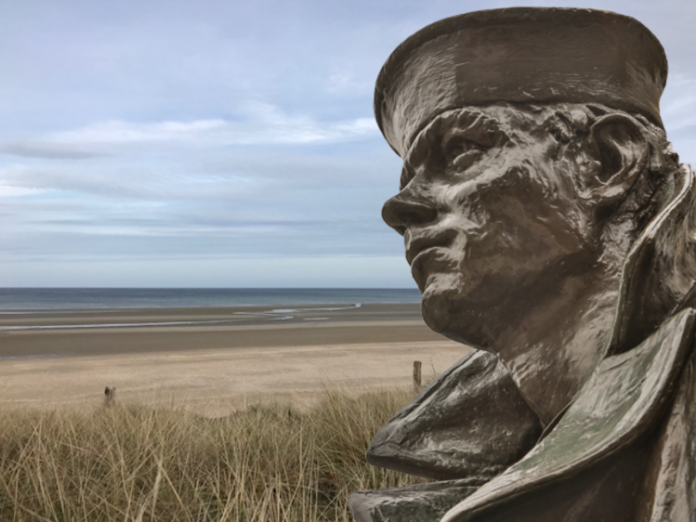 The United States Navy Memorial will postpone the official ceremony of the Normandy Lone Sailor statue dedication due to the ongoing pandemic. The Dedication Ceremony will now be conducted in conjunction with the 78th anniversary of the invasion of Normandy, June 6, 2022.
"It is prudent to make this decision today so that the many people who have been involved in placing the Lone Sailor statue in Normandy have the opportunity to travel to Normandy for the dedication," said Rear Admiral Frank Thorp, USN (ret.), President and CEO of the United States Navy Memorial. "We look forward to getting together for the dedication in June of 2022."
The Navy Memorial, Normandy elected leaders, and the Utah Beach Museum have worked together tirelessly to memorialize the work of the U.S. Navy in time for the 77th anniversary of the 1944 Battle of Normandy, which marked the beginning of the Allied liberation of Western Europe from Nazi Germany's control. The foundation for the Lone Sailor statue is currently being constructed and the statue will be still be installed this spring.
Despite the delay in the official dedication of the Lone Sailor statue, our friends and partners in Normandy will hold a small ceremony in honor of the statue in time for the 77th anniversary of D-Day on June 5, 2021. The ceremony will be to honor memorial supporters and the community in France who made the installation of the Lone Sailor statue possible.
The Lone Sailor statue will stand at Normandy as a lasting symbol and reminder of the courage and sacrifices of the U.S. Sea Services to free the world from oppression and fear. It will provide overwatch, placed along the storied beach to honor and remember the sea servicemen of D-Day and serves as a tribute to those "Frogmen," the forefathers of today's U.S. Navy SEALs, and all Allied Sailors who made the Battle of Normandy immortal. Their brave actions forged an international relationship with the citizens of France and Sainte Marie du Mont, one of the first towns liberated in Europe in World War II.
The US Navy Memorial is a 501(c)(3) not-for-profit organization whose mission is to Honor, Recognize and Celebrate the men and women of the Sea Services, past, present and future; and to Inform the public about their service. To learn more, visit us online at navymemorial.org.