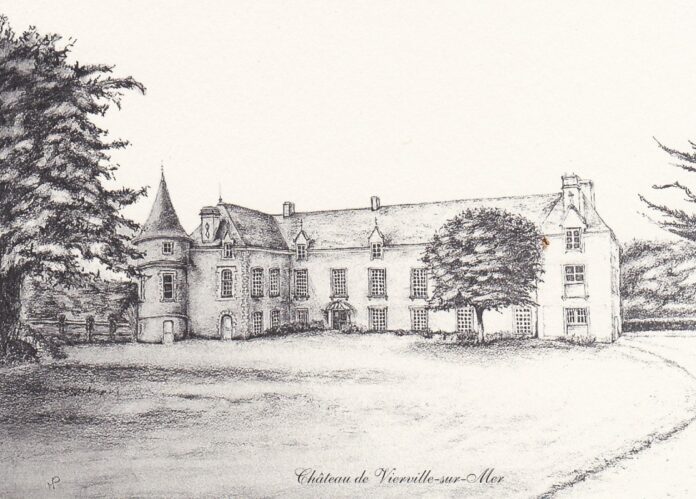 The Stonewall Brigade Museum has received the donation of a large pen and ink drawing depicting the Vierville Chateau that played a prominent part in the D-Day landings on June 6, 1944 as a tribute to 115th and 116th Infantry Regiment soldiers who died during the war.
The painting, by French artist Martine Pageot, was gifted to the Verona, Va.-based museum by Jean-Paul and Odette Hausermann, who own the Vierville Chateau, which was the scene of heavy fighting between 29th Division soldiers and the defending Germans in the days following the landings.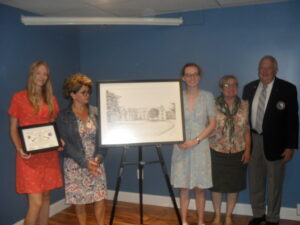 The Vierville Chateau drawing.  Left to right:  Marie Goetz, artist Martine Pageot, Marie Goetz, Margaret Heeson and Brig. Gen. Theodore G. Shuey, National Commander, 29th Division Association.
At the ceremony representing the Hausermanns were their granddaughters, Julie and Marie Goetz, artist Martine Pageot and Margaret Heeson-Schoch, who organized the trip.  The four travelled from France to Virginia for the ceremony.
The drawing was presented to retired Col. Hugh Sproul, 116th Infantry Regiment Foundation president.  Also in attendance was then 29th Division National Commander and retired Brig. Gen. Ted Shuey, who the Hausermanns initially offered the drawing to for the museum when he visited the chateau during the 75th anniversary of D-Day commemoration.  Shuey said the drawing was the only depiction of the headquarters of the 11th Port Authority, which was stationed at the chateau from June 7 to the end of July 1944.
The delegation from France also toured the National D-Day Museum in Bedford, Va., and placed flowers on the graves of the famous "Bedford Boys."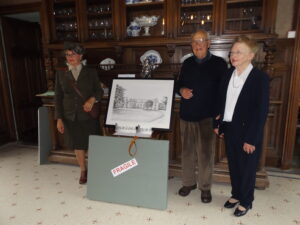 The drawing in the Vierville Chateau before it left for the Stonewall Brigade Museum.  Left to right:  Artist Martine Pageot, Jean-Paul Hausermann, Odette Hausermann.
The chateau was visited by Field Marshall Erwin Rommel when he inspected German defenses prior to the invasion.  Jean-Paul Hausermann was 14 years old during the battle and lived in the chateau.